What are Mega Pixels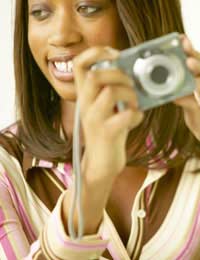 When choosing a digital camera it is fairly likely that one of your first considerations will be the pixel count of each potential model. Increasingly, cameras are being sold on the consumer market with their megapixel value as their most heavily emphasised selling point.
Pixels
The word pixel stands for 'PICture ELEment'. They are tiny squares of colour which make up an image, and you can see them in computer screens, TVs and pretty much anything else that displays a picture. A larger number of pixels will produce a better quality image. If you break it down to its most basic level, this is obvious; an image made up of four blocks will be of worse quality than an image made up of 2,048 (the number of pixels across the horizontal side of a 3 megapixel image sensor).
Digital cameras use either charge-coupled device (CCD) or complementary metal-oxide-semiconductor (CMOS) image sensors in the place of film. These sensors are made up of tiny elements, each of which will normally record red, green or blue light. These elements are generally known as pixels although this is something of a misnomer as they only record one type of light each. The megapixel value of a camera is an expression of the image resolution that camera will produce; in other words, the number of sensor elements available.
Resolution
It is generally accepted that image resolution will determine how large an image will print without noticeable loss of quality. If, for example, you are likely to be making wall-size poster prints, then you will need a high mexapixel count. However, the importance of the megapixel value to most amateur or even professional photographers is debatable. A 3MP sensor array, for example, contains 2,048 pixels across, while a 14MP array contains 4,500. As you can see, this is not a large difference. In reality, camera manufacturers' sales pitches focusing on a 'breakthrough' in the number of megapixels is largely nonsense. In order to make a noticeable difference to image quality, a quadrupling of the number of megapixels is necessary and, as such, anything above around 3MP is more than adequate for most photographers.
Instead of being drawn in by the 'megapixel myth', as it has come to be known, there are numerous other factors that you can consider when concerned by image quality. The most important elements to look at are the colour quality produced by the sensor and the quality of the lens you are being offered.
A cheap camera, regardless of its megapixel value, will skimp on image and lens quality in favour of a small increase in the number of sensor elements. Rather than being hoodwinked into going for the highest number of megapixels you can afford, buy the best glass that you can afford: a good lens and a good quality sensor producing a 3MP image will give far superior results to a cheap 8MP camera. There is a similar problem with printer manufacturers focusing on 'DPI' resolution, which is covered in more detail elsewhere on this site.
You might also like...