Digital Backs for Film Cameras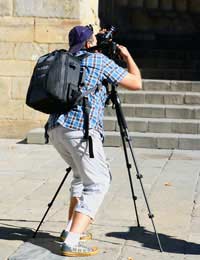 A huge number of photographers have embraced digital as their new medium of choice. Amateur photographers seem to have taken to the advantages of digital with slightly more enthusiasm than their professional counterparts but the latter group have certainly followed with almost as much eagerness. However, there are still a considerable number of professionals who still use nothing but film. There are a huge number of reasons for this, perhaps the most common of which is the declaration that there is something intrinsically more atmospheric in film that is unattainable with digital.
Workflow
In 1991, a company called Leaf Photography released the first digital camera back. This was produced in an effort to make the benefits of digital available to professional photographers who wished to continue using their film-based systems. In professional photography, so-called 'workflow' is a hugely important concept; workflow describes the process by which an image is produced, from the actual taking of the picture right through capture, manipulation, and ultimately printing or digital publishing. Leaf's intention was to allow film photographers to make use of a digital workflow (which removes the need for darkroom processing and developing) while still maintaining the benefits of film.
At the lower end of the photographic market, cameras are designed to operate as a single, self-contained piece of equipment. This can, perhaps, be seen most clearly with digital compacts, many of which now also allow the user to transfer their images directly to a printer in a photo lab or even a pharmacist, totally wirelessly.
Slightly further up the scale cameras become more modular, for example with digital SLRs which allow the user to change lenses or flash attachments. At the very highest level, however, this modularity is almost total; photographers build the exact camera that they need from a variety of different components. The digital back can be seen as one more module used by the professional photographer.
Technology
Essentially, digital backs are photo sensors of roughly the kind which are found in consumer digital cameras. They use either the CCD or CMOS sensor type, and operate in a variety of ways. In the early days, digital backs used 'linear array sensors' to literally scan the image that had been exposed, in the same way that a flatbed scanner works. The earliest models could capture only grayscale images, and even these took a considerable length of time to process. Similarly, the file sizes were so huge and the storage capacity available to most photographers was so small, that digital backs had to be permanently connected to a computer.
Today, however, digital backs are considerably more practical, and are technologically far more advanced. Leaf now makes a 33 megapixel digital back which can capture a staggering gamut of colour with fantastic accuracy. Similarly, increased storage capacity and processing power means that photographers can shoot onto hard drives or even memory cards without too much thought for the amount of space they have left. As a result, digital backs have become a hugely important piece of equipment for the serious professional photographer who wishes to continue using film.
You might also like...