Digital Camera Maintenance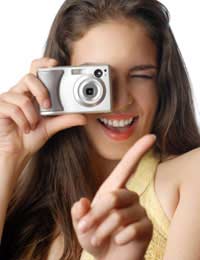 Although they are constantly falling in price, digital cameras are still costly pieces of equipment. This is particularly true of 'prosumer' (that is, the upper range of the consumer market) and professional kit. It is strange, therefore, that so few photographers take good care of their tools. Maintaining an effective cleaning regime for your camera may seem like a chore, but it will dramatically increase the lifespan of your equipment and will have an immeasurable impact on the quality of the images that you can produce. Furthermore, basic maintenance tasks can be basic and quick.
Lens Maintenance
It is particularly important, whether you are using a film or a digital camera, to ensure that the lens is kept in good working order. This begins with very basic rules such as ensuring that you always keep a lens cap on when your lenses are not in use, as well as making absolutely sure that the other end of the lens (the glass that fits onto the body of your camera) is kept covered at all times. You should also regularly clean both of the glass surfaces of all your lenses with a blow-brush, cloth and cleaning fluid. As this article focuses on digital camera maintenance, further information on lens cleaning is available in an article elsewhere on this site concerning the maintenance of film cameras.
Perhaps the most important part of your digital camera is the image sensor. This is the element of the camera that will cause the most obvious degradation to your images but, annoyingly, is also one of the parts that most easily accumulates dust. In most cases, a few specs of dust on the image sensor are bearable; these will appear as small blotchy patches on your image, and can easily be removed in your image editing software. The most tool for eliminating dust marks is the clone stamp, the use of which is covered in more detail in another article on this site.
Sensor Cleaning
If your sensor has accumulated an unacceptably large amount of dust, the most highly recommended course of action is to take the camera to a trusted repair shop and have them clean it for you. The sensor is hugely expensive and cleaning it is a tricky job; unless you are daring or experienced, trying it yourself is not recommended. If you are intent on attempting this yourself, however, ensure that you have a good sensor cleaning kit; these are available from most camera shops. You will need the shutter open to clean the sensor, so you will also require a manual shutter function on your camera in order to keep it from closing. If the shutter closes while you are in the process of cleaning, it is highly likely that you will damage the shutter, sensor or mirror. Do not, therefore, try to second-guess your camera by setting it to a long exposure and trying to get the job done quickly. Instead, ensure that the shutter will stay open.
Memory Card Maintenance
An element of digital camera maintenance that is often overlooked is memory card care. It is particularly frustrating (and potentially costly) to shoot a series of images and then discover that your memory card has been corrupted and you cannot access the photographs. In order to mitigate this possibility, ensure that you maintain your memory cards as well as possible by keeping the contacts covered at all times, and by ensuring that you regularly reformat your memory cards in the camera in which they receive most use. This helps to minimise the possibility of data corruption.
You might also like...