Digital 'Push' Processing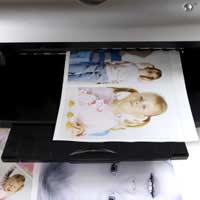 A very common problem in photography, and one which is particularly difficult to overcome, is that of capturing sharp images in low light. In these circumstances it is necessary to use a wide aperture and a slow shutter speed in order to allow enough light onto the film or digital sensor to produce a sufficiently bright exposure. However, this often results in images that are not sharp enough as a result of camera shake. If you are not familiar with aperture and shutter speed, you may wish to read the relevant articles on this site before continuing with this one.
Digital Image Editing
Thankfully, digital processing has produced a potential cure for shaky images produced in these conditions. It is far easier to salvage an underexposed digital image than one which is not sufficiently sharp. This is where digital 'push' processing comes in. In film photography, it is possible to shoot an underexposed image and then ask the individual processing the image to 'push' the film – that is, to leave it in the chemicals used for processing for a longer period of time. This technique can be adapted for use with digital photography.
If you find it necessary to shoot in conditions of low light, but you still require a sharp image, digital push processing may be the answer. The process begins with the action of actually taking the photograph, and is concluded in the software that you use to digitally process your images. In the first instance, you should have a good understanding of the concept of shutter speed. Essentially, the length of time for which the shutter is open and the amount of light that will reach the sensor are positively correlated. As such, when shooting in low light conditions you should keep the shutter open for as long as possible. On many digital cameras you will have a 'shutter priority' mode. This means that you can set the shutter speed yourself and the camera will determine how to set the aperture.
Generally, the lowest that you can safely set the shutter speed without completely blurring the exposure is 1/30. This should be sufficient in all but the lowest of light conditions. You should also bear in mind, however, that camera shake will be magnified the further you are zoomed in. As a result, if you have particularly shaky hands you may need to compensate by setting a faster shutter speed when zoomed in.
Levels
When you import your low-light images into your image processing software, you are likely to find that the images are under-exposed. If you have used a sufficiently high shutter speed, however, you should still find that your images are relatively sharp. This means that you can increase the exposure of your images manually and still end up with sharp, relatively well-exposed images. In order to achieve this you should begin by experimenting with the 'levels' feature of your image editing software. This function can be used to alter how much detail is visible in the areas of shadow in your image. Further details on this function are available in another article on this site. You may also wish to experiment with the 'Brightness and Contrast function'; this will not yield such effective results, but is easier to understand.
The basic principles of push processing are, therefore, twofold: first, shoot in low light at a sufficiently fast shutter speed that you maintain clarity in your image. You can then compensate for the underexposure in your image editing software.
You might also like...