Advanced Video Editing Techniques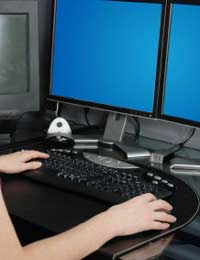 Many people who use digital cameras rarely use their cameras to capture video more than shooting basic footage. However, the video software that is incorporated into more expensive digital cameras these days is often almost as sophisticated as that found in camcorders which make creating short movies using a digital camera equally as professional.
Using Multiple Cameras
Quite often, you'll use a digital camera to film a sequence of events from one single perspective. With the latest video editing software, however, you can take your basic skills to a more advanced level by shooting the same video from a number of different angles with different cameras and then edit this multicamera footage using an advanced video editing suite.
This technique is highly effective when filming conversations as the viewer is able to see different reactions and it gives a different perspective to the conversation as the audience can gain a better idea of each person's reaction to what's being said.
Video Compositing
Another clever advanced video editing technique to learn is compositing. Basically, this means using your video editing software to layer several different clips of video over each other to come up with one single image. This is often useful where you may have an actor in conversation and you want to portray that scene against a backdrop which wasn't possible at the time of shooting the original scene.
For example, an actor may be describing a ski resort from the comfort of a studio whereas by Compositing images when editing, you can include footage of a particular ski resort featuring mountains and ski-ers in the background whilst the actor has been overlaid into the foreground as if they were there.
Filtering
Often when you are reviewing video footage which you have filmed prior to editing it, the colours may not have turned out quite right. Advanced video editing techniques can fix this by allowing you to manipulate colours and adding textures to your video. Filtering can not only be used to correct colour problems but can also be used to create dramatic effect.
Adjusting Speed
With advanced video editing, you can change the speed and pace of a recorded video to match a particular mood or to fit more appropriately with a piece of recorded music that you may have added to a particular scene.
Good amateur examples of this can be seen in the likes of wedding videos where often the footage of the bride and groom walking back down the aisle to leave the church is often portrayed in slow motion to better capture their facial expressions and also as the reduced speed is usually more appropriate if the footage is accompanied by a slowly lilting love song for example.
Slow motion montages of sporting greatness such as an incredible goal scored or to capture the facial expressions of, say, a 100m runner also benefit from this effective video editing technique.
Advanced editing techniques can also show you how to work with trimming tools and split edits as well as there being a variety of timing tools at your disposal. You can also learn how to add exciting titles and graphics to your video as well as using effective sound editing techniques.
There are a vast range of video editing software products on the market to enhance your digital camera's video footage when it comes to editing it. Most computers these days will usually incorporate some kind of basic video editing software already built in such as Windows Movie Maker and it may well be that there are sufficient effects contained within these kinds of programs which will meet your needs.
However, if you're looking to become more ambitious in your editing, Final Cut Pro, Adobe Premier CS3 and the Sony Vegas series are probably three of the better video editing software packages for advanced video editing.
You might also like...