Editing Home Footage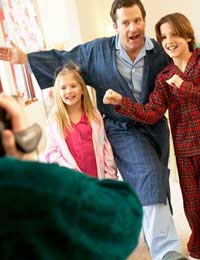 Imagine the scenario: you have just shot an important family event; you are happy with the footage and you want to share it with others who may be interested. However, you want to do something a bit special with what you have recorded – something a little more than simply sending them a tape or DVD with your raw footage. In this case, you may well wish to edit your footage into something slightly more interesting.
Software
For the first-timer, editing video can seem like an unattainably daunting task, simply because many people would simply have no idea of where to start. However, once you have the basics down, performing a standard edit is a fairly easy task. In the first instance, you will require some sort of editing software package. The industry standard is Adobe's Premiere Pro, but this is expensive. If you are running an Apple Mac then you may well have iMovies installed as standard; almost every editing package operates on basically the same principles, although some will have more or less functionality than others.
Once you have successfully installed your software, your first step is what is known as 'capture'. This means the transferring of your footage from the camera onto your computer. If you have only a couple of minutes of film this is a very simple task; you can simply copy the entire chunk in at once. Video, however, is very large in terms of file size, and so if you have much more than a few minutes to capture you will find it difficult in one go. Instead, you could try capturing your footage shot-by-shot. This method involves your software working out where your shots begin and end (where you have turned the 'record' button on and off, essentially), and capturing each shot individually. Software such as Premiere has this functionality, but if this is out of your price-range there is also some comparable freeware available for download.
Timeline
It is more than likely that your software will hinge on a timeline. This will be an area on the screen on which you can see a visual representation of the progress of your footage. In most software, your individual clips will appear as blocks on the timeline, with points known as 'keyframes' demonstrating where events such as crossfades or filters occur. Generally you will also see two windows, one of which will allow you to view individual pieces of footage in order to choose 'in' and 'out' points to determine which portion of the clips you would like to use. The second window will act as a playback monitor for the entire, edited piece of footage.
Once you have a handle on your particular piece of software, it will also be useful to break down what makes a well-edited piece of footage. If you watch a film or TV program you will notice that the director very rarely sticks with one clip or angle for more than a few seconds. Indeed, the speed with which cuts are made is such that one often doesn't even notice. A good variety of angles and clips will engage the viewer and add an extra element of interest. You may also find it beneficial to incorporate still images and non-photographic elements such as text where applicable. Another important element is sound, which is covered in an article elsewhere on this site.
You might also like...