Choosing a Video Camera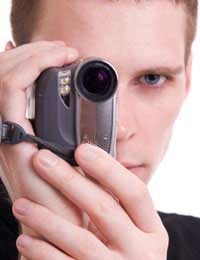 The process of choosing a video camera can be overwhelming. In a field in which there are so many different options (even more options in many ways, than are available with stills cameras), indecision is a common complaint. However, it is vital that you understand the various choices that are being presented to you in order that you can make an informed decision.
Format
The first, and potentially most important bridge that you will have to cross is that of format. This article assumes that you are in the market for a digital video camera (most likely as a result of its massive advantages over analogue in terms of ease of editing and maintenance of quality over time), but even having made that decision there are still myriad choices ahead.
Once you have decided on digital, you then need to choose a format. This will almost certainly boil down to two options: DV (or MiniDV) or Digital Betacam. DV is the most widely used digital format. It uses heavy compression to ensure that your footage does not take up too much space, and it achieves this by using a 'codec' to remove colour elements that are invisible to the human eye. DV, and its smaller counterpart, MiniDV, is affordable and can produce some high quality results; one often sees DV footage used in professional films. DV is not, however, generally considered 'broadcast quality', and there is a marginally noticeable difference in quality between this digital format and Betacam SP, the film broadcast standard. If you are intent on getting broadcast quality footage, then the only reasonable choice is Digital Betacam, also known as DigiBeta. This offers quality even higher than Betacam SP, but is very expensive.
Chipsets
Having decided on a format, there are a few other fundamental choices that you will have to make. The first of these is the quantity of colour-sensitive chips in the camera. The science behind this is covered in more detail elsewhere on this site, but the basic premise is that a camera generally uses either one or three chips to record light. If it is using one then this chip will be responsible for capturing every light channel, whereas three-chip cameras will use a chip each for red, green and blue. The latter arrangement produces a better quality image, but this is only really a consideration for mid- and lower-range cameras; high-end models will all use multiple chips. Again, this is a decision that will probably be made on the basis of cost, but if you can afford it then a multiple-chip model is definitely more desirable.
Lens Quality
Another vitally important consideration is the quality of the lens. Regardless of the 'unique' features offered by every manufacturer, until a certain price level many video cameras are much the same. However, one of the determining factors in image quality is the quality of the lens. You should try some basic tests when trying out cameras: zoom in on an object as far as the camera will allow. Focus manually on this so that it is pin-sharp, and then zoom out fully. If the focus has changed then you should disregard the model as the lens is not up to scratch. Similarly, you should look for any visual distortions, such as 'vignetting', where the image becomes darker towards the edge of the frame. Again, until a certain price range you will not be able to find a perfect lens, but you should generally not settle for a model which produces particularly noticeable distortions of this kind.
Ultimately your choice of video camera is a personal one, and while it may depend in great part on budget, it should also be informed by your own taste and how the camera feels in your hands. Try out a few, and don't be rushed into a decision.
You might also like...