Richard Avedon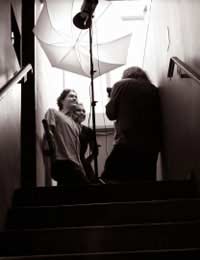 Richard Avedon is commonly thought of as one of the greatest portrait and fashion photographers of all time. His unique style and impeccable rapport with his subjects led him to create some of the defining photographs of the twentieth Century and informed other such visionaries as David Bailey.
Early Career
Avedon began his photographic career in the armed forces. He enlisted in the Merchant Marines in 1942, taking his Rolleiflex medium format camera with him; his father had given him the camera as a present, and he used it to take official photographs of the crew. Having left the Marines Avedon began work in commercial photography.
He began his civilian career as an advertising photographer but he soon moved to Harper's Bazaar, one of the largest glossy fashion magazines of the time. He spent over twenty years at Harper's, becoming the head of photography soon after setting up his own studio in 1946. After this he began contributing images to other successful fashion magazines such as Vogue, and portraits to weeklies like Life.
As a photographer, Richard Avedon is defined both by the individuals he photographed and the way in which he photographed them. As a fashion and portrait photographer Avedon drew accolades from across the world, and became a highly renowned professional. As a result (and, of course, aided by the gravity of the names of the publications for whom he worked), Avedon's portfolio became full of some of the biggest celebrities in the world.
For over a decade the photographer built up a strong working relationship with the actress Audrey Hepburn, for example, and it is she who both became his muse and provided him with his most famous image, a striking facial portrait. While much of his most defining work was in the studio, Avedon also worked on various reportage projects throughout his career. Perhaps the best of these is his series of portraits of individuals engaged in the Civil Rights Movement, produced in 1963. Indeed, it was through his reportage that he made what is often thought of as his most accomplished portrait, a haunting image of a young farmer made in 1980.
Equipment
Avedon's equipment was minimal; aside from varying lighting environments, the photographer used only an 8 x 10 view camera. This large format camera was far from cutting edge, retaining the bellows system that had been used for at least a century before Avedon's birth. In the studio Avedon generally had his subjects pose in front of plain white backgrounds, looking directly into the lens.
His portraits are striking, and often unsettling or macabre; the intensity with which he managed to get his subjects to engage with the camera (and, indeed, with the photographer himself) is reflected and magnified in the images he produced. This intensity does not necessarily manifest itself in the theatricality that might be expected from the celebrities he photographed; rather, Avedon was able to delve deeper into the soul of the individual he was photographing, and present an honest depiction of their emotions on film.
You might also like...