Henri Cartier-Bresson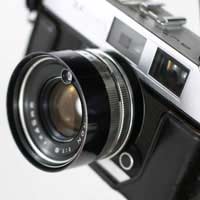 Henri Cartier-Bresson is considered by many to be the greatest photographer of all time. He was a master photojournalist who was one of the earliest photographers to fully embrace 35mm over medium or large format.
A classically trained painter Cartier-Bresson had an impeccable sense of both composition of subject. It was his combination of these two key faculties that enabled him to become the king of candid photography.
Education
Having been taught to paint by his uncle, Cartier-Bresson went to a private art school in 1927. His teacher impressed upon him the supposed importance of rules in art; Cartier-Bresson soon became somewhat disillusioned with this view, but his time in education enabled him to put the conventions of composition into practice.
During the '20s and '30s, however, the photographer also found himself amongst the Surrealists during their rise to prominence. Their influence on the photographer is tangible, particularly their continued attempts to represent the subconscious in an image.
During the '30s and '40s, Cartier-Bresson lived with Robert Capa and David 'Chim' Seymour, two photojournalists. In 1947 the three, along with William Vandivert and George Rodger, formed the Magnum agency. This was a new type of photo agency, in which assignments were shared equally among the photographers. They saw photography in terms of the service it perform for humanity, and tried to use it to this end.
The Decisive Moment
Cartier-Bresson's most important contribution to photography was the development of the concept of the "moment decisif" or "decisive moment". He argued that no event that ever occurs lacks one of these moments, and that it is the job of the photographer to know instinctively when that moment is. When that moment is captured, he said, the photographer is truly creative.
Cartier-Bresson eagerly adopted 35mm technology, moving away from medium format early. He famously used a Leica compact rangefinder, almost exclusively fitted with 50mm lenses. This meant that he had a small, discreet camera with a lens that did not significantly magnify or otherwise affect the image he was creating. He had the ability, therefore, to photograph in a way few others had previously done; he could capture an image unnoticed, and therefore avoid the distortion of events as a result of the subject's change of behaviour in front of the camera.
Draw Your own Conclusion
Cartier-Bresson photographed exclusively in black and white. Many critics have said that this choice positively reflects the factual, objective tone of his work, encouraging the viewer to draw their own conclusions. Furthermore, he never cropped images after exposure, railing against such practices as intellectually and artistically dishonest. Indeed, so strong were his feelings on this that he made prints which included the film border in order to prove that they had not been cropped.
Henri Cartier-Bresson was without doubt one of the greatest photographers the world has ever seen. His unfailing empathy and understanding allowed him to create some of the most striking and candid portraits that we have ever seen. Furthermore, his contribution to Magnum has grown in importance as their extraordinary archive develops; they too are widely recognised as the best in their field, and a reminder of a glorious age for photography.
You might also like...