Walker Evans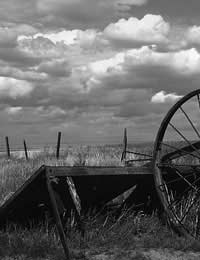 Walker Evans like many other photographers, did not start out with the intention of making his living taking pictures. He was born to a wealthy Missouri family, but had a rebellious streak; he dropped out of university and, after having spent a year wandering the streets of Paris, he fell in with New York's young literary set. Evans had wanted to be a writer, but did not feel capable of producing the work that he wished to. Instead, he picked up a camera with the intention of producing "literate, authoritative, transcendent" photographs.
Early Career
Evans' first assignment was in Cuba, for a book on the brewing revolution. It was here that he began to develop his philosophy of photography, producing images that seemed to pass no judgement, but rather simply provide a visual record of real events. Walker Evans has been associated with an artistic movement known as social realism, although this has mainly occurred since his death. Social realism involves the depiction of 'real life' events of the working classes, as they were understood towards the middle of the last century. In Cuba Evans began producing images that fitted this mould, although it is likely that he would have distanced himself from the movement as a result of its latter Soviet connotations.
It was in 1941, however, that Evans produced his most famous work. During the six previous years he had been working as a contracted photographer for the Resettlement Administration, a government agency which was charged with moving struggling farmers into state-organised areas. Evans documented the progress of the RA, later transformed into the Farm Security Administration, for three years. After this period a selection of his images became the first ever exhibition at the Museum of Modern Art to display the work of just one photographer.
Equipment
In 1941, Evans returned to the subject of down-and-out rural workers. He continued to work in large format, using an 8 x 10 view camera. As a result of his choice of format, his images took on a pristine, detailed atmosphere. They were a true representation of people and places, using what Evans later called the "record method". Furthermore, the photographer tended to shun the darkroom, preferring to delegate the responsibility for making prints from his negatives to others. Evans saw the responsibility of the photographer as being contained entirely in the interaction between camera and subject, and in the choice of scene.
The images that Evans produced during his period working with sharecroppers from 1941 went on to become one of the most iconic and evocative collections of images of the Great Depression. In particular, his photographs of Allie Mae Burroughs, and an unnamed sharecropper (Hale County), have become absorbed into popular culture. The intensity with which the subjects engage the viewer, and the sparse background and composition, make for extraordinarily striking images. Similarly, images such as 'Bud Fields and his family' convey the sorrow of that time, but juxtapose it with the hopeful innocence of a smiling young child.
You might also like...