Photographing Animals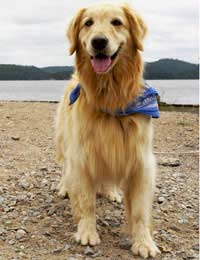 Animals are a favourite subject for photographers. They are all around us particularly if you happen to live with a pet such as a dog or cat, and they are often hugely expressive; dogs in particular have a 'cute' factor which can be matched only by babies.
The Relationship Between the Subject and the Photographer
Indeed, photographing animals and children is a rather similar experience! Given the obvious lack of understanding between the subject and the photographer, good images of animals can be very difficult to capture. It is famously hard to retain the attention of an animal if you are shooting a set-up shot, and famously hard to find the subject in a suitable environment if you are photographing in the wild. However, there are a few tips that you may well find useful if you are tackling the tricky discipline of animal photography.
'Blobs
'One of the most common complaints around animal photography is that the subjects appear as nothing more than blobs; a black dog, for example, can often look just like a black blob with no detail. This is due to incorrect exposure settings. In order to solve this, you need to either 'step up' or 'step down'. If the animal is dark, then you will need to increase the aperture size by around one f-stop in order to take in enough light to expose shadows and details. Conversely, if the animal is white or very light then you should try exposing about one step down.
The 'blob' complaint occurs because the animal's surface either reflects too much or not enough light to produce an acceptable exposure. This can also be rectified by the use of a flash. As with any situation, you should avoid on-camera flash at all costs. A flash bulb which fires directly at the subject will wash out the animal, causing the same problems as over-exposure. Furthermore, you are likely to be faced with inaccurate eye colourings (the animal equivalent of red-eye). In order to avoid this you need to angle the flash bulb away from the axis of the lens; this can only normally be achieved with an 'off-camera' flashgun.
Content
Aside from exposure considerations, there are also a few tips for composition and content in your photographs. It is almost always desirable to have the subject of the images engaging in a natural activity, rather than one which looks posed or forced. This also removes the necessity for endless hours of coercion in order to try and get the animal to do what you want.
As with human portraits, eye contact is key. A common trick is to take images at the eye level of the animal, trying to ensure that they are looking into the lens. This gives a sense of interaction between the subject and the viewer, and therefore creates much more engaging images. Attracting (and holding) their attention may be difficult, so you should have distracting props on hand.Finally, don't be scared to be 'snap happy'. Many professional photographers use something similar to a 'scatter-gun' technique, taking huge numbers of photographs before finding the perfect shot in amongst other, not quite so good ones. The more photos you take, the higher your chances are of getting the right shot.
You might also like...