Family Photography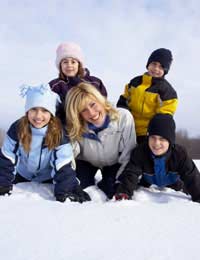 The family portrait is a great tradition for millions of people around the world. It can be a valuable record of a moment in time for that particular group of individuals and if they are taken regularly, they can form a chronology in the life of the family. However, group portraits of this kind can also be intensely frustrating affairs, and ones which often suffer from the malaise of a lack of creativity.
Portrait Types
If you are thinking of taking a portrait of your family, you should first think about what those who are going to treasure it might like to see. If you are traditionalists, then the classic posed shot may well be the best for you. If, on the other hand, you are willing to try something new, then your portrait could take an entirely unique direction. Both of these possibilities are covered in this article.
Regardless of the type of portrait that you are taking, there are a number of techniques which can make the entire process run much more smoothly. In the first instance, it is vitally important that you are prepared before you start. There is nothing more effective for making people restless and resentful than having to wait around for hours while a photographer sets up their kit.
Ensure that you have your camera ready to go, and any lights that you might be using set up in time. Secondly, enthusiasm is key. This should be a fun occasion, and it is partly your job to make it so. Keep talking to the group while you are working, and engage them in the process. Showing them the results if you are shooting with digital is also a good idea.
Poses
If you are shooting a regular, posed portrait, then you should give some thought to the layout. It makes sense to try and keep some sort of uniformity to the picture, as this will minimise the risk of your photograph looking like a haphazard collection of people who happen to have been thrown together. Getting the kids at the front is always a good idea, firstly because they are much more likely to be seen there, and secondly because they tend to be naturally engaging for a viewer. You should also think about levels; make sure that your subjects aren't all simply standing or sitting in a line, but have some at different heights in order to give your image a bit of visual interest.
If you are thinking about a less traditional picture, then your options are almost endless. It is often found that images of people with items that they use everyday, or in everyday situations, make for particularly evocative and insightful portraits; perhaps try a shot of the kids playing outside while the proud parents look on, or a dinner party image. Whatever setting you choose, it is almost always best to ensure that your subjects look like they are having fun. No-one wants to remember years gone by as slightly boring and un-interesting. Rather, a picture that captures a happy family will be something that will be treasured.
Lighting
Finally, it is worth saying something about lighting. If you are lucky enough to be shooting on a sunny day, then It is highly recommend to try the portrait outside. Natural daylight conveys feelings of warmth and contentment and on a practical level can also provide for the possibility of an excellent exposure. If, on the other hand, you are shooting indoors, you might consider using some extra lighting. You need not have professional studio lights; most DIY stores stock fairly cheap floodlights which will do the job. Position them so that they give a natural, highly diffused light for the best results. You may also find it useful to read the articles on studio lighting elsewhere on this site.
You might also like...