Starting a Photoblog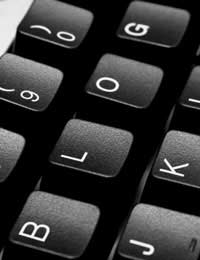 As the Internet has become a more pervasive element in everybody's life, more and more people have become familiar with some of the terminology that had previously been the preserve of 'geeks'. Today, terms like 'blog' and 'photoblog' are becoming elements of our daily lexicon, and it is particularly important for photographers and other creatives to understand these phrases and their implications.
What is a Blog?
A blog is a website with an emphasis on regular content updates. This might be a description of what is going on around the blogger, a series of posts about their views on world events – or photographs. You could think of a photoblog like a diary; it is a way of recording what you are doing photographically, presenting it in an interesting way, and allowing the public to see your work.
Photoblogs have had an enormous impact on the working patterns of professional and amateur photographers alike. Previously, building up a portfolio to show prospective clients was a time-consuming affair; if you were building an online portfolio you would need to do a fair amount of design and coding, while a hard copy portfolio would require the time and expense of making prints of your images. However, a photoblog allows you to add images of your choice as frequently as you wish, with each new addition automatically fitting into a pre-selected template.
Construction
There are a number of ways in which a photoblog might be constructed, and a number of platforms on which you can build it. Amongst the most popular is the Blogger platform, now owned by Google, which allows users to build and maintain their blog for free. This will be more than sufficient if you are happy to use a pre-made template, of which many are available. However, if you require a little more freedom you may wish to choose software like Wordpress, which you can install on your own website. Wordpress and its competitors (including offerings like Movable Type) offer virtually limitless customisation, although you will need a bit of coding experience to make the most of them.
Monetization
There are a number of ways of monetizing your photoblog, and your choice of method will depend on the impression that you wish to give of yourself as a photographer. For example, it is very easy to host adverts on your photoblog, and this can provide a steady income stream if you have a decent number of visitors. However, it would be rather incongruous to find adverts on a professional photographer's blog; in these instances, you may wish to concentrate on areas like selling prints, or incorporating an e-commerce solution (again, easily achieved in most blogging platforms) to allow users to purchase licenses for your images online.
Finally, a photoblog provides a fantastic advertising opportunity. The ability to direct potential clients and customers to your web presence saves time and money, and can put you ahead of your prospective competitors. In this way, while you may not make any money directly from your photoblog, you can drive traffic to your site in the hope of securing work 'in the real world'.
You might also like...