Macro Photography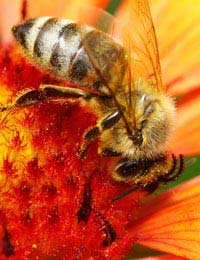 One of the great joys of photography is the way in which it can be used for different purposes by different people. While some use the photograph as an artistic medium, for example by producing abstract images, others wish to create detailed, accurate representations of real life. One of the most interesting ways of producing the latter is through macro photography.
What is Macro Photography?
Macro literally means 'large', or 'of great size'. In photographic terms, it is a type of close-up photography that traditionally attempts to produce images on a 1:1 ratio; that is, images that are of the same size as the subjects they represent. Macro techniques are generally used for nature photography, in which it is often desirable to produce images that demonstrate the true detail of the plant or animal being photographed. Today, however, the term 'macro' has been used differently by camera and lens manufacturers. It is now generally accepted that a macro lens is one that is able to produce images on a 1:1 ratio when printed at the standard size of 4 x 6 inches. In reality, this requires only a 1:4 magnification ratio, which is considerably easier to produce.
Many 'point-and-shoot' digital cameras now come equipped with built-in macro functions. Indeed, in many cases these are highly effective, particularly on newer camera models. However, most concerted macro photographers argue that it is far easier to produce sharp images when the subject can be viewed through an accurate viewfinder, rather than the screen on the back of a point-and-shoot. For this reason, a single lens reflex (or SLR) camera is generally thought superior for these purposes.
Equipment
If you are interested in macro photography with an SLR, there are a number of pieces of equipment that should be capable of producing the results you require. Perhaps the most common of these is a dedicated macro lens. These are also, confusingly, sometimes called 'micro' lenses by manufacturers. These are generally fixed focal length lenses that are specifically designed to produce clear results at a magnification of 1:1 or higher - some newer lenses can now produce magnification ratios far higher than this. As most macro lenses are fixed, you will need to choose the focal length that best suits your purposes. A focal length in the region of 50-60mm, for example, would suffice for fairly small objects, while a length of around 100mm is generally accepted to be the optimum for such things as insects and details of flowers.
Buying an entirely new lens can be an expensive prospect. If this is out of your price range, it is possible to buy 'extension tubes'. These fit between the lens fitting on the body of your camera and an existing lens. They are not lenses in themselves as they incorporate no glass; rather, they simply increase the distance between the lens and the sensor. This darkens the image and increases the possible magnification. It is also possible to attach a number of tubes together, thus increasing the magnification further. If you choose to experiment with this equipment, you may also wish to invest in a tripod as your camera may become quite unwieldy. This is particularly problematic when the photographer zooms in closely, as any camera shake is magnified to the same degree as the image itself.
You might also like...