Cross-Processing and Old Film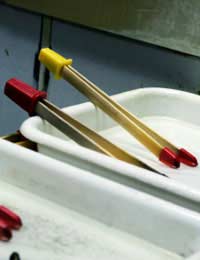 Lomography has had something of resurgence in recent years. This is a widely followed branch of film photography which takes its name from Lomo a camera manufacturer who specialise, bluntly, in producing awful cameras.
Lomo cameras are notoriously badly manufactured; they generally have plastic lenses (rather than glass) and are far from leak-proof. As a result, interesting and unpredictable effects are produced as a result of light leaking into the body of the camera and vignetting (where the centre of the image is more highly focused and exposed than the areas around it).
Swapping Chemicals
Photos taken with so-called 'toy' cameras like this tend to be easily recognisable. They are highly contrasted and have a surreal, other-worldly feel. Lomo photographers are also particularly keen on cross-processing, although this technique can be used regardless of what type of film camera you are shooting with. Essentially, cross-processing means developing film in chemicals which are designed for use with other types of film.
The most common cross-processing techniques involve developing E6 film (slide film) in C41 ('regular' negative film) chemicals, or C41 film in E6 chemicals. In the case of the former, a positive image will be produced, and in the latter a negative image will be produced that can then be printed.
Cross-processing produces very distinctive results. Images printed using these techniques will generally have a very high contrast, and the colours in your pictures will change. Generally colours will become heightened, and you will end up with vibrant prints that have similar surreal qualities to those present in photos made with Lomo cameras. The great joy of cross-processing is that you don't require a darkroom or any special equipment to do it; all you need is your desired type of film and a local processing lab. When you send your film in for processing give specific instructions that you would like your film developed with the relevant chemicals, and that you would like the technician to carry out the processing as they would if they were given the opposite type of film.
Old Film
Many photographers who use cross-processing also find that out of date film adds to the vibrancy of the colours and the bizarre effects. Old film is very cheap to pick up on the internet, and can produce even more unpredictable results because of the degradation of the film surface. As with many other aspects of photography, experimentation is the key.
If you are a digital photographer, it is possible to get the same effects as would be produced by cross-processing; the wonders of Photoshop can mean that you can have the best of both worlds. In order to emulate the colour effects produced in the darkroom, you can use the Curves function of the program to increase the balance of each colour channel. Try adjusting each channel individually, rather than moving the entire RGB spectrum at once, in order to get the exact results that you want. After this, you can add an Adjustment Layer with a colour cast to produce the distinctive atmosphere of film cross-processing. Try using a deep yellow to begin with, and experiment from there.
You might also like...