Edward Weston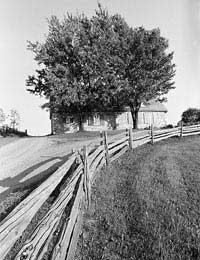 Edward Weston's entry into the world of photography was typical; having been given a Kodak Bullseye #2 for his 16th birthday the young Weston began taking snapshots around the house. His aunt owned a farm in Illinois, and the budding photographer spent time photographing the day-to-day life of the woman and the place.
It is fairly certain that, when Weston was given the camera, no-one would have considered the possibility that he would have his first exhibition at the age of 17, at the Chicago Art Institute. The exhibition included a series of images of parks around Chicago, many of which are excellent illustrations of Weston's early pictorialist style.
Early Career
Pictorialism was the most widely followed photographic style from the end of the 19th Century. It remained the most fashionable movement for around thirty years, eventually falling out of favour around 1914 when Modernism became the vogue. Pictorialism stated that the camera should be used to reproduce the types of image which were being painted at the time. The emphasis, therefore, was on darkroom manipulation and a preponderance of effects such as soft focus and various filters. The camera was seen as an extension of the paint-brush, and the aim of the pictorialist photographers was to facilitate their own personal expression through the photographic medium.
Edward Weston, along with Ansel Adams and several other notable photographers, soon rejected pictorialism. In their own words, they believed that the development of photography must be constrained by the "actualities and limitations of the photographic medium". Furthermore, they wished for its development to remain "independent of ideological conventions of art and aesthetics". They formed the Group f/64, with the intention of steering the course of photography away from pictorialism. Instead, they moved towards 'straight photography'; Weston and f/64 instead concentrated on factors like the quality of the lens being used in order to produce pin-sharp, truthfully representative images.
Daybooks
Weston's own career went from strength to strength after the formation and success of f/64. As well as contributing portraits to major publications and setting up his own studio, Weston wrote numerous articles describing his methods of working. These were published in several highly respected publications. Weston is best remembered, however for his 'Daybooks'. These formed a sort of photographic diary, made between the mid-1920s and 1934, and described in detail his own personal life and his working practices. These have gone on to become required viewing for any serious photographer.
In 1958 Edward Weston died from Parkinson's disease, having made his last images four years earlier in a California coastal nature reserve. In many ways this echoes both the natural settings of his earliest work, and the work of his close friend and co-founder of f/64, Ansel Adams. In the three years preceding his death, however, Weston had supervised two of his sons while they made new prints of what he saw as his most important images. This highly personal retrospective collection comprised 800 pictures, and cemented his place as one of the 20th Century's greatest visual artists.
EXPLORE PHOTOGRAPHY IS FOR SALE.
This website is for sale [more info].
You might also like...