Photographing Wildlife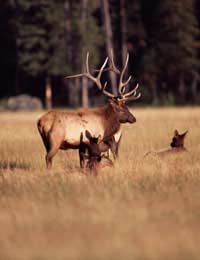 Making images of animals in the wild can be one of the most rewarding photographic activities. Many photographers are preoccupied with producing images of people or landscapes but others believe that the most valuable use for photography is giving the viewer a window through which they can look onto a world in which they don't normally take an interest, or which normally passes them by.
If you are interested in wildlife photography then you should remember from the outset that, as with every other photographic discipline, that there is no 'right' or 'wrong' way in which you should go about it; how your images eventually turn out is completely up to you, but this article will look at some tips and guidelines to help you get the best from your photographs of animals in the wild.
Proximity
In most circumstances, one of the most important things to consider is your proximity to the subject. You should try to get as close as you possibly can to the animal, or group of animals, that you are photographing. This helps to ensure that the viewer will be visually stimulated by the image; a photograph of a bird in which you can actually make out the shape of a bird is far more interesting that one in which you must scour around the picture in order to find the subject. Similarly, you should think about which part of the subject you will focus on. As with portraits of humans, it is generally thought that the eyes are the most important part of wildlife photography. If the viewer is immediately drawn to this part of your subject because they are well exposed and in focus, then they are likely to be able to connect with the portrait much more easily.
An emphasis on the eyes of an animal almost allows for a personification of the subject, and therefore encourages empathy on the part of the viewer.
Considering the Environment and Surroundings
Indeed, focus is a vitally important consideration when looking at wildlife photography. You are likely to find that you are trying to capture images of animals in a visually distracting environment; returning to our bird, for example, you might well find that you are trying to photograph it amongst trees or bushes. It can be difficult to ensure that the animal is the focal point in circumstances like this, particularly when the subject is a similar colour to its surroundings.
In order to counter this you can use your aperture settings to throw the background out of focus. Use a narrow depth of field (if you don't know what this means you might wish to read the article on aperture and shutter speed elsewhere on this site) to ensure that only your subject is in focus, thus making it the point to which the viewer's eye is immediately drawn. Similarly, you should try to make sure that the subject is well exposed; if your camera uses automatic metering, you may need to meter with the subject in the centre of the frame and then recompose your image.
Again, for more information on this you may wish to read the article on metering elsewhere on this site.
You might also like...