Photographing Strangers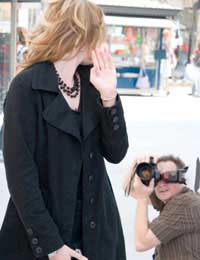 For many people the purpose served by photography is to provide a way to capture important or nostalgic moments in their own lives and the lives of the family and friends.
Providing a Memory
A photograph provides a valuable document of special occasions or day-to-day life, and many amateur photographers use it strictly in that context. However, many others wish to use their photographic skills to investigate the lives of others. This is particularly true of those of a photojournalistic bent, or those who wish to better understand the world around them.
If you are interested in producing images in which the subjects are strangers, then it is perfectly possible that you are reticent about taking your first such photos. Photographing strangers can be a nerve-racking experience, especially if you have not done it before. In order to make the process as smooth as possible, and therefore in order for you to produce the best images that you possibly can, there are a few guidelines which you may find it useful to follow.
Privacy
In the first instance, you should always remember that the privacy of the individual or individuals concerned is of far greater importance than your right to take a photograph. With this in mind, you must be careful about the situations in which you take a picture. If the subject of a potential image is engaged in a public display (say, for example, they are a participant in a demonstration, or a street carnival) then your job is easier as it is assumed that, by putting themselves on display, they are giving implicit permission for photographs to be taken of them.
However, if you are aiming to capture a more personal scene then more tact will be necessary. In order to capture a natural image it is vital that you are not obtrusive and you don't alter the action in any way. Often, this will mean that you will need to take a photo surreptitiously, without the knowledge of the subject. There is a fine line, however, between making yourself unobtrusive and actually hiding, and this is a problem which you will have to tackle differently in every situation. This can be particularly problematic when taking images of children; for more information on this you may wish to read the article entitled 'Photographing Children', which can be found elsewhere on this site.
Rapport
If you are taking photographs with the knowledge of the subject, then it may help to develop a bit of ice-breaking patter in order to set the individuals' minds at ease. A quick introduction and an explanation of what the images are going to be used for (saying that you are an artist usually suffices) is both courteous and important for relaxing your subjects. After having taken the photographs, you may also wish to show the subjects the results if you are shooting with digital. Offering to send them copies is another courtesy which is often well received.
It should also be noted that not everyone is comfortable with having the photograph taken. Sometimes you really will have to take 'no' for an answer, and this should, of course, be respected. Regardless of how great a shot you might be missing, the wishes of your subject are paramount in these situations.
You might also like...