Film Speed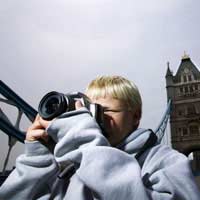 If you are shooting on film one of the first choices that you have to make is amongst the plethora of film types available. Of course the most fundamental of these is the choice between colour and black and white, but once you have decided this the differences become slightly more convoluted. Aside from whether or not you will shoot colour, the most important factor to consider is the film speed.
ISO
The 'speed' of film is measured on a scale called ISO, which replaced the older ASA scale. Essentially, the ISO rating of a film corresponds to its sensitivity to light; a film with a lower ISO will require more light to make an identical exposure to that produced with less light but a higher ISO-rated film. In order to achieve this, the shutter on the camera must be opened for a longer period of time, and thus film with a lower ISO is known as 'slow' film, and vice versa.
Of course, the great benefit of slow film is that they can be used to get acceptable exposures in fairly low light conditions. This means that, for example, a photographer would not need to use as long an exposure time with 3200 film as would be necessary with 100 film, and therefore the photographer would be able to capture a sharper image. However, this is not without its downsides.
Faster film does, inevitably, have a chemical reason for its increased sensitivity to light. This is due to the presence of larger grains of silver halide in the film emulsion; as these grains are the light-sensitive part, a larger grain will mean higher sensitivity. However, this also means that the film speed (or, more accurately, the film's sensitivity to light) is directly proportional to the 'graininess' of the picture. Although this was improved during the 1980s, film grain is still something that must be contended with – unless, of course, that is the effect you desire; film grain has become fashionable in some photographic fields for its 'retro' qualities.
Digital
ISO ratings also apply to digital cameras. Although, of course, there is no 'film speed' as such, the ISO scale is still used and is defined by the amount of light required to produce a standard exposure. Thus, when shooting in low-light conditions, a digital photographer would still choose a high ISO, in the same way that a film photographer would choose slow film. The great benefit of digital in this field, however, is that the photographer can change between ISO settings at any point; there is no need for anything as time consuming as changing film.
Digital ISO is still subject to the same constraints as film; a choice of a higher ISO setting will result in more 'noise', rather than grain, but the effect is much the same. Some cameras can now produce acceptable images at settings of up to 3200, although this is still comparatively rare. Any decent digital camera, however, should be able to produce images at around ISO 200 with absolutely no perceptible digital noise.
You might also like...