Dealing With Light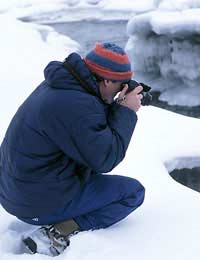 The word 'photography' draws its origins like so many other things, from Greek. In its original form the word means 'drawing with light', and this is a pretty accurate representation of the nature of the discipline. Light is the key to photography, the most important factor to be considered by any photographer, regardless of their proficiency or ambition. It can, however, be both one of the most difficult factors to master, and one of the most oft forgotten.
Different Environments
As a photographer, you will be required to deal with a huge variety of different lighting situations and environments; indeed, unless you are in a studio, no two situations will ever be the same. However, there are a few tricks that you can learn in order to help you adapt to the environment in which you find yourself. Studio lighting is not covered here as it is covered more extensively elsewhere on this site; this article concentrates on natural light.
If you are shooting with film, then one of your first considerations will be the speed of film that you are choosing. It is vital that you choose a suitable ISO rated film if you are to avoid over- or under-exposure. A speed as low as ISO 100 may be suitable for a bright, sunny day, but you are likely to have to revise your choice for more overcast conditions. The same principle applies for digital users, although they have the freedom to change ISO between shots.
Accessories
There are various accessories which you are likely to find useful when considering light. On particularly bright days, you may well wish to use a lens hood. These fit around your lens and serve to prevent flares and stray beams. In bright sunshine you have a wide choice of potential settings, and may well, for example, therefore be able to use a very low aperture setting in order to blur the background of a portrait. You should ensure that you are constantly re-evaluating the lighting situation, however, particularly outdoors, as even slight changes often require an adjustment of your settings.
Low light conditions can pose considerable problems; it is easier to keep light out than it is to create it. Choosing a slower shutter speed and a larger aperture will make the most of the available light, but there is of course only so far that you can go with these settings. A blurred shot in low light as a result of long exposure is a common complaint and, while this can be mitigated by the use of a tripod, you may well eventually find that you need to use a flash.
If you can possibly avoid the use of on-camera flash then I would encourage you to do so; rather, you should try and experiment with directional flash guns. These allow the photographer to adjust the angle of the bulb in order that light can be bounced from other surfaces. A common trick is to direct the bulb towards a ceiling or wall and use that surface to diffuse the light which is being used. This gives a much softer, more natural quality of light than the harsh type that comes from a direct flash.
You might also like...