Photo-Montages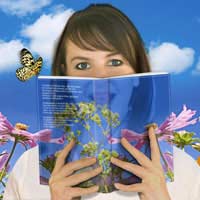 Photomontage is an interesting area in which photography meets the other more traditional visual arts. Essentially, a photomontage is an image which consists of several other images that have been 'composited' together. In its early (pre-digital) days, photomontage meant artists cutting and sticking photographs together, often to create highly intricate compositions. In many cases, photomontage artists sought to stimulate some psychological thought in the viewer; it was a favourite medium of Surrealist artists like Salvador Dali, who wished to investigate the human psyche through art.
Paper
The advent of digital manipulation has made the creation of photomontages far easier. In the past, artists were forced to cut portions of other images and fix them to larger sheets of paper. After this they would perform 'retouches'; these might involve sanding down the joins between images, or painting over the lines. After this, the artist often photographed the composite image again, thus creating one final photographic image which is actually made up of several. Notable photomontage practitioners who worked in this way include John Heartfield, whose intensely political art railed against Nazi Germany.
Photomontages today can be created in a number of different ways. Of course, it is still possible to use the techniques that artists such as Heartfield mastered; if you are interested in doing this you will need a series of prints on good paper, a sharp scalpel, some clear-drying glue and some sandpaper. This last piece of equipment is used for shading the joins between images. It is perfectly possible, however, to create photomontages digitally. This can prove much easier than producing them 'manually', particularly bearing in mind the fact that many image editing programs now include step-by-step tutorials for creating photomontages.
Digital
Creating photomontages using software such as Photoshop relies on certain tools. At the most basic level these include elements like the Marquee tool – this could be thought of as your scissors. However, there is also a plethora of tools which can be used to make the 'joins' between images less obvious. For example, you might experiment with the blur tool, which performs a fairly self-explanatory role. Similarly, the Clone Stamp can be used to 'graft' parts of your image onto other areas; this is used by setting a cloning point and then literally painting onto the relevant area.
When creating photomontages, one of the most important tools is the Blending Options dialog box. This includes options allowing you to change the way in which each layer blends with the layer below it; you can, for example, choose to remove pixels depending on the colour of the underlying layer. This can be very useful for helping to create realistic combinations of images. Finally, you may also wish to try out the Magnetic Lasso and Magic Wand tools. These can both be used for removing small elements of other images; the former attaches itself to lines within images, while the latter senses blocks of colour. A bit of experimentation with the threshold and frequency levels (which can be found at the top of the screen) should yield excellent results with these tools.
You might also like...