Digital Storage and Organisation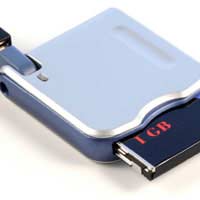 One of the great benefits of digital photography has been the definite lessening of the financial burden caused by wasted shots.
When using film it is perfectly possible that half a roll may be taken up with useless frames; having to have these developed meant basically doubling the cost of processing the shots that you actually want. One of Digital's great selling points is that there is no longer a necessity to create and then keep wasted frames.
One would have thought, therefore, that the number of digital frames being kept is lower by percentage than those created with film. This seems not, however, to be the case; rather than maintaining their previous shooting patterns and then doing away with the shots that they don't need, photographers seem instead to shoot even more pictures, but not bother to delete the useless ones. It is for this reason that hard drives become mazes of digital images, and that a system of organisation is necessary.
Storage
If you have shot a large number of images, you will almost certainly be noticing your hard drive filling up. If this is the case, or if you think that you will need to store lots of images in the future, then it is well worth splashing out on an external hard-drive. It is now perfectly possible to pick up 300 gigabyte drives for less than £100, which should satiate you storage needs for a while. Even if you don't think you will be shooting that many images, buying a smaller external drive for back-up purposes is wholeheartedly recommended.
Asset Management
Once you have the space for your images, you may well be looking for some way of organising them. Arranging your pictures with the standard Windows file system is not a good idea. You will quickly became unbelievably frustrated with the clunky interface and lack of an effective search tool. We therefore recommend that you investigate some digital 'asset management' software.
There are countless pieces of software of this ilk available, but the best include iView Media Pro and iMatch. Google's Picasa software has been immensely popular, but the limitations of this software are fundamental; if you are going to be arranging your photos in all but the most basic of fashions, then this is probably not for you.
On the other hand software like iMatch, while incredibly powerful and clearly the software of choice for many professionals can be difficult to grasp and is likely to represent over-kill for many amateurs. A good compromise is iView Media Pro, which couples a user-friendly interface with much of the functionality of higher-end software.
All of these pieces of asset management software work around keywords, which are covered in more detail in an article elsewhere in this section. However, if you also require some basic image editing functionality, then it is also possible to find software that combines the two; Picasa does this at a very low level but, again, if you are looking for a compromise between ease of use and functionality, iVew is the software of choice in this field too.
You might also like...