Choosing a Film Camera and Film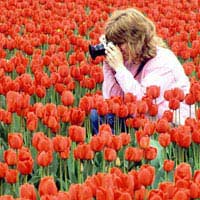 The move towards digital in the world of photography has been extraordinary. As with most developments this has been led by consumers and professionals have followed behind, albeit somewhat grudgingly in some quarters. Amateurs and pros alike value the instant results of digital, and the vast economical advantage it has in the lack of wasted frames.
Film, however, is still the medium of choice for many people, and still has facets that digital can't emulate. There is something intangibly beautiful about a photograph taken on film and processed well. It is for this reason that many people stick with good old analogue.
Formats
Before you even start thinking about specific models of camera, you need first to consider what format you will be using. Film comes in varying sizes, each of which produces a different size or print. The most popular all-purpose format is 35mm; fairly self-explanatorily, this is film cut into strips of 35mm width, with sixteen separate frames per foot of film. 35mm became the format of choice for photojournalists very soon after its inception, due to its ease of use and low cost. Similarly, before the advent of digital, it was these characteristics that attracted the consumer market.
The predecessor to 35mm, however, still has many desirable features. The term 'medium format' is used to describe any film size which is larger than 35mm but smaller than large format, which measures at 4" x 5" or larger. All medium format cameras produced today use 120 film, and some also take 220 which allows for twice as many exposures.
The great attraction of medium format is that, as a result of the larger film, the resolution of the images produced is greater. This means a better quality print, and negatives which can be enlarged further than anything you could produce with a 35mm. Large format produces larger exposures, but the bulk of the cameras required means they are out of the question for most photographers.
Your choice of format will be informed by the type of photography that you will be doing. If you are looking to have a camera that you can take everywhere with you, or something with which you can shoot a fairly large number of frames, then 35mm is probably for you. If, on the other hand, you will be engaging in a lot of portrait work, then medium format may be the way to go.
Cameras
Having chosen your film format, you can get down to the business of choosing a camera. Photographic companies are gradually phasing out their film ranges, but it is very easy to pick up excellent cameras second-hand. It is still possible to buy new 'point-and-shoot' film cameras. These feature automatic metering, and will determine shutter speed and aperture for you.
While these are fine for simple snaps, they lack the versatility that a slightly more serious amateur photographer requires.Instead, you should consider looking at traditional SLRs, or single lens reflex cameras. These offer the range of features that you will need; you will be able to change the shutter speed and aperture yourself and, in many models, there will be a metering diagram in the viewfinder to help you get a good exposure. Similarly, the lenses are detachable so you have the added choice if you find a single lens too limiting.
In medium format there are two basic types of camera, one again being a point-and-shoot and the other this time a twin lens reflex. If you are seriously considering medium format, a tradition twin lens reflex is probably the answer. A good model will serve you well for life; if you can afford it, try Hasselblad, Mamiya or Bronica. Again, shutter speed and aperture are completely under your control, but we would recommend also buying a light meter as many of these cameras don't have exposure meters built in.
Medium format has had something of a resurgence in the consumer market recently, with the rebirth of Lomography. This is a field of enthusiast photography in which people use what are essentially toy cameras to produce very striking images. The typical Lomo image is high contrast, with what is known as vignetting – this is when the centre of the image is lighter than the outer edges. These phenomenons are caused by poor manufacturing process; generally Lomo cameras are literally held together with tape. This, however, is part of their charm, and I can heartily recommend investigating these plastic beauties if you want to try something different.
You might also like...